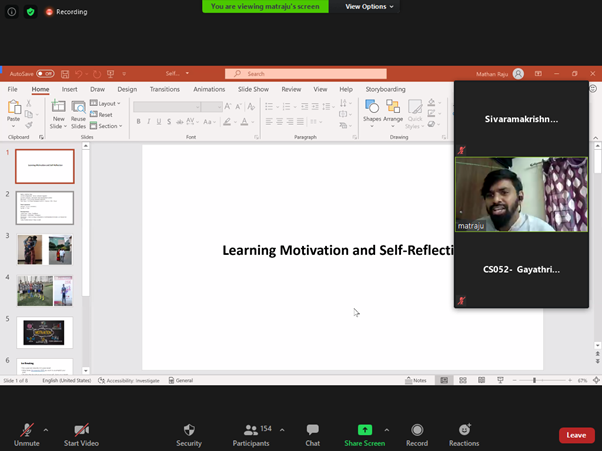 Webinar on Learning Motivation and Self-Reflection
The Student Affairs Committee of KPRIET has organized the first event of this academic year for the first year KPRIET students. The webinar entitled 'Learning Motivation and Self-Reflection' was conducted on 25.11.2020 between 3.00 pm to 4.00 pm, through Zoom online platform. Mr. Mathan Raju, Senior Software Engineer, Microsoft India Development, Hyderabad has consented to be the resource person for the webinar.
The webinar began with a welcome address by Mr.R.Sivaramakrishnan, AP(Sr.G)/ CSE, member of the Student Affairs Committee. Mr. Mathan Raju briefed about his education, life experiences, hurdles and career growth among the students. He also emphasized being self-motivated and the importance of setting goals. The important takeaways for the students through his webinar:
• Stay self-motivated
• Set goals and refine to sub-goals
• Try harder more than you fail
• Talk to your faculty member/ mentor more and often
• Don't take decision when you feel broken
• Be responsible and obedient
Finally Ms.M.Narmatha, AP/Mathematics proposed the vote of thanks.